Thousands Return To Edmonton's Favorite Outdoor Event
The Expo Centre welcomed over 36,000 outdoor enthusiasts to the 2023 edition of the Edmonton Boat and Sportsmen's Show. From March 16-19, the show floor was taken over by hundreds of exhibitors from the outdoors, hunting, and fishing communities who were gearing up for the upcoming season.
"It was obvious from attendance numbers and conversations with exhibitors that Alberta's outdoor community is eager to get this season started," said Show Manager, Les Trendall "We seriously couldn't have asked for a better weekend, thanks to all who came out."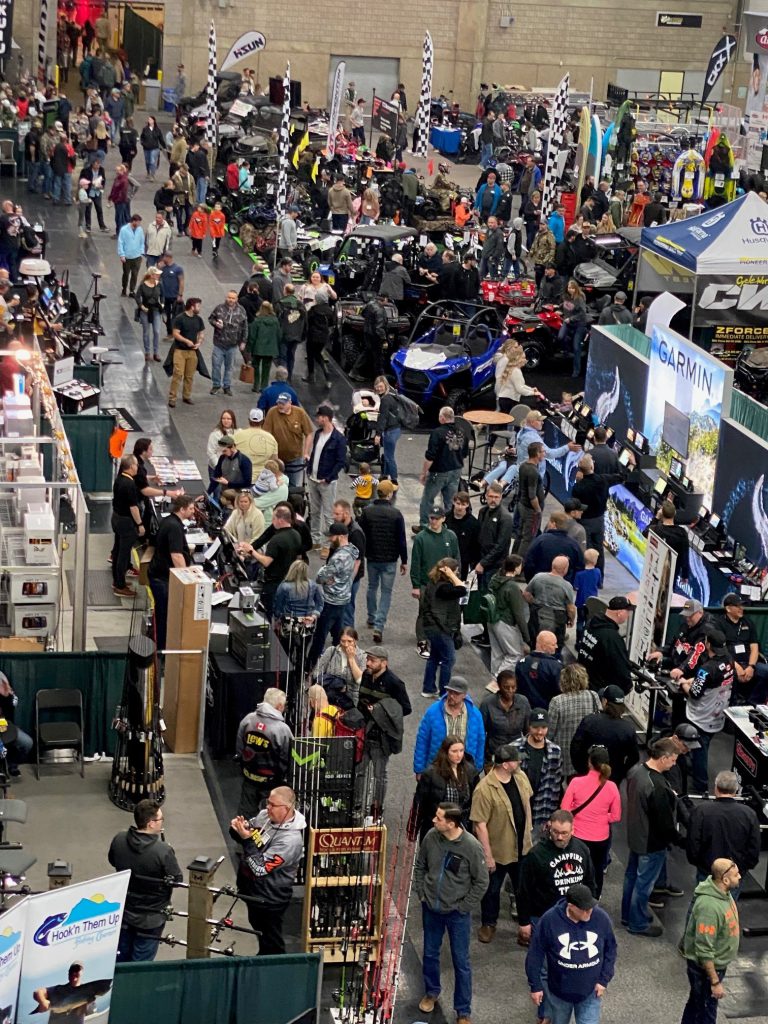 Visitors had the chance to win many great prizes over the course of the weekend. Congratulations to the following winners:
Shawn Henry, winner of a houseboating trip for 15 people, valued at $3728, provided by Twin Anchors
Amanda Knapton, winner of a $2500 Gift Certificate from Rapid Revolutions
Anita Kuffert, winner of a 'His' On-The-Go Prize Pack courtesy of Kailani
Laurie Lynn Warehime, winner of a 'Hers' On-The-Go Prize Pack courtesy of Kailani
Jayne Bauer, winner of a Benchmade Meatcrafter Fixed Blade Knife from Knife Life!
Carmen Skelton, winner of a Cellular Trail Cam provided by Reconeco
Emilian Matveev, winner of a Prize Pack from High Caliber
Matthew Jones, winner of the Scotty Boating prize pack
Alison Landon, Kyle James Ray Stotyn and Chantal Widynowski who all won a pair of Dock Shocks from Canada Dock Shoxs
Exhibitors have been quick to express their excitement to return for future editions:
"We had a great turnout and generated lots of interest in our new & existing boat lines. Looking forward to coming back next year." – Braden Panasiuk of Gibbons Motor Toys
For our first-time at the show, the experience was perfect. The people working there were nice to chat with and always ready to help. We decided before the end of the show that we would be back next year. – Eric Chaumont of Impact Outdoor Supplies
The Edmonton Boat & Sportsmen's show is one of our favorite shows to attend. It's an excellent opportunity to see our customers face to face and for them to have a hands-on experience with our product. We are pleased to say that the show is extremely organized and well put together. - Jamal of APA Archery
"We had an incredible 4 days at the 2023 Edmonton Boat & Sportsmen's Show. Lots of laughs, talking fishing and hunting with old and new friends. (Even better than laughs are the bookings!) THANK YOU to Team EBSS for making the show so easy to be a part of. Count us in for 2024!" - Kim Reeve of Adventure Destination International
This was one of the best shows that I've ever experienced in Canada. It was such a thrill watching hunters and anglers booking hunting & fishing trips with local guides and trips of a lifetime with hunting and fishing lodges. Within itself, the show was an amazing adventure. And if you weren't there, you truly missed out on one of the first outdoor adventures of the 2023 season! - Wes David of Host & Producer of Fishing the Wild West TV
This show would not have been the same without our incredible sponsors: Canadian Tire, Canadream, WildTV, AHEIA, Non-Typical Nation, NASP, Fishing the Wild West TV, Edmonton Fish & Game Association, Out Fly Fishing, YYC Nature and Education Centres, and SCI!
The show will return in 2024. For complete details, visit the show's website at http://www.edmontonboatandsportshow.ca/ and connect with the show on Facebook, Instagram.
2023 Exhibitor List
Adansonia Safaris
Adventure Destinations International
AFD Petroleum
AHEIA - Alberta Hunters Education Instructors Assoc
Alberta Conservation Association
Alberta Environment and Protected Areas - AB Fish Stocking Program
Alberta Fish & Game Association
Alberta Fish & Wildlife Enforcement Services
Alberta Off Highway Vehicle Association
Alberta Outdoorsmen/Sportscene Publications
Alberta RAM Dealers
Alberta Strong
Alberta Trappers Association
Alberta Underwater Council
Alumination Canada
Andrew Lake Lodge & Camps
APA Archery
AQ Outdoors
Arctic Spas & Leisure
Ark Corporation
ATV Edmonton
B Creative Beauty
B WISE Contractors Ltd.
Barkley Sound Fishing Lodge
Barry Jay's & Rainbow Marine
BC Sportfishing Group
Beachside Enterprises Ltd. (Docks)
Beachside Outdoors (Rambo Bikes)
Boulder Ridge Outfitters
Bow River Anglers and Fly Tyers
Breina Docks
Briden Solutions
Bullets And Broadheads Shooting Centre
Canadian Coalition for Firearm Rights
Canadian Dock Shoxs
CanaDream Inc.
Casting Pond managed by OUT FLY FISHING
Catch Em Big Lures
Certified Radio
Champs Detailing
City of Cold Lake
Cowboy's Caviar Beef Jerky
Cree River Lodge
CST Hand Made Lures
Cutco Cutlery
Cycle Works West
Dear Dog Treats
Direct Energy
DK Offroad Inc.
Edmonton Fish & Game Association
Edmonton Gun Club
Edmonton Old Timers Fishing Club
Edmonton Trout Fishing Club
EFGA Kids Fish Pond Tickets
Ena Lake Lodge
Europa Canopy & Marine
EZDock Marine Systems
Farmboy Fishing Company/Leland Lake Camp
Fortified Industries Ltd.
Free Spirit Marine
Freedom Origins Apparel
Furnace Family
Garmin International
Gibbons Motor Toys
GPS Central Inc / Radioworld Central
Harlen Innovative Product Sales
Harmony Tie Boss LLC.
Hecate Cove Lodge
High Caliber Adventures
High River Drift & Jet
High Seas Outfitters
Hook'n Them Up Fishing Charters
Hot Pursuit Charters
House of Q
Icom Canada
Indianhead Fishing Lodge
Insta Dock Inc.
J Massages Tools (J.W. Sales)
Junior Forest Rangers
Kailani Sports Inc.
Kastelen Sausage and Fine Meats Ltd.
Kenetrek Canada
KG Woodcraft
Kids Fishing Pond Sponsored by CANADIAN TIRE!
Kisseynew Canoe Company
Knife Life Canada Ltd.
KUIU
Lac La Biche County
Lac La Biche Fishing Adventures and Lakefront Lodging
Lead Head Lures
LeafFilter Gutter Protection
Leduc Fish and Game Association
Lunar Charters and Tours
Lunkers Fishing Adventures
Marine Dek Mat.com
Martin Motor Sports (Docks & Lifts)
Martin Motor Sports (Power Sports Div.)
Redbow Co
MD Marine Insurance
Misty River Outfitters / Gypsy Lake Lodge
Mitchell Payments / Moment of Truth / Booner Productions
Motshwere Safaris & Outfitters
NASP - National Archery in the Schools Program Competition
Nefarious Seasonings & YEG Smoked Meat
Nonacho Lake Fishing Adventures
Non-Typical Nation
Nordic Lodge
North Shore Lodge
Northern Lights RV Resort
Onoway Fish & Game Association
Out Fly Fishing
Outdoor Stage sponsored by WILDTV
Pavati Boats
Porta Prop
Poutine World
Precision Edge Taxidermy
Principle Outdoors
Pulse RV
Pyrowest Fireworks
Quatsino Lodge
Rahmat Cutlery Inc.
Ralphs Motorsports
Rapid Revolutions
Rather Outdoors
Reconeco Outdoors
Recreational Power Sports Inc.
Redfern Enterprises Ltd.
Redneck Royalty
River Monster Adventures
Riverside Honda
Royal Treats
Scentsy
Schwab's RV
SCI Northern Alberta Chapter - Archery Trap
SCI Northern Alberta Chapter - Sensory Safari
Scotty Manufacturing
Sea Max Marine & Outdoors
Select Worldwide Hunting Safaris
Shadd Lake Cabins Ltd.
Shipwreck Marine
Simpson Air & Nahanni Mountain Lodge
SKRE Canada
Slayer Calls
Slim's Cabins
Smoky Lake Region
Southern Jet
Stockmans Lodge Inc.
Stompin Ground Ltd.
Stopbully.com
Super Dips West
Tactical Innovations
The Dive Outfitters
The Great Outdoors Landscaping
Timberlost Outdoors & Surplus
Tournament Ski
Town of Rocky Mountain House
Trailrunners K9 Training Centre
Transport Canada - Office of Boating Safety
Travel Lakeland
TTC Motorsports Ltd.
Tundra Supply
Tween Lakes Feed Solutions Ltd
Twin Anchors Houseboat Vacations
Twin Marine (Tobin Lake)
Veterans Association
Wapiti River Outdoors
Western Boat Lift, Dock & Trailer
Western Canadian Game Warden Magazine
Westlock Powersports & Marine
Wholesale Trailers & Marine
Wild Horizon Hunting
Wild TV
Wilderness Family Outfitters
Woody's RV World
World of Spas
YYC Nature & Education Centre - Cobbs Adventure Park